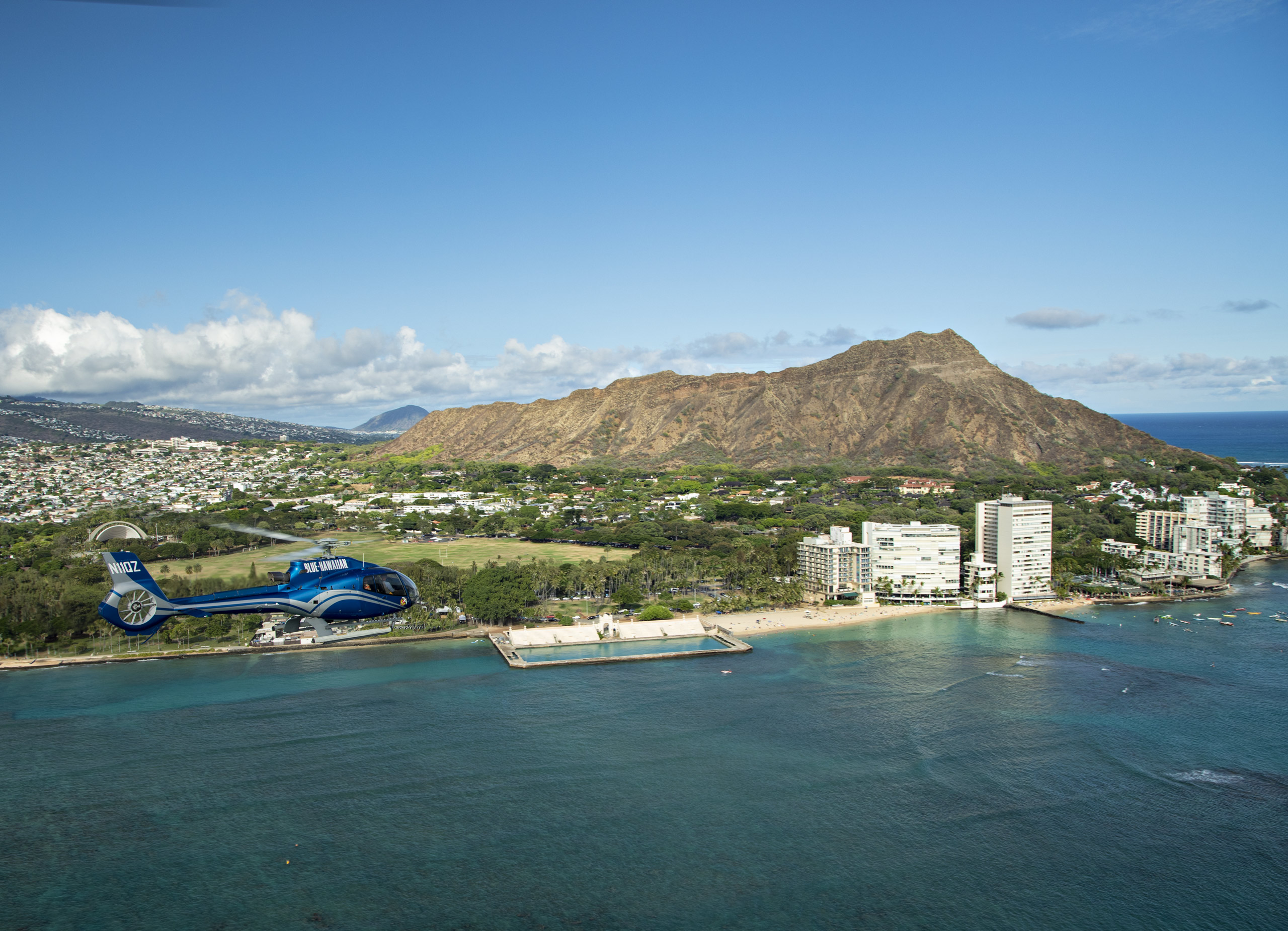 4 Reasons to Take Your Oahu Vacation to New Heights With a Blue Hawaiian Helicopter Tour! 
Oahu is a stunning island in Hawai'i and home to some of the world's most breathtaking landscapes and iconic landmarks. As a popular tourist destination, Oahu attracts millions of visitors yearly, eager to explore the island's beauty. While some people rent a car and navigate the island's roads, other travelers opt for the more exhilarating and efficient way to see the sights by booking an Oahu air tour via helicopter.
1. You're on vacation. Why not relax, see more, and drive a whole lot less? 
You didn't come on vacation to sit in traffic, grapple with google maps, and jostle through crowds. And while Oahu is known for its beautiful sights, it's also known for its heavy traffic and large groups at top tourist attractions. Some of the most popular, like Hanauma Bay, even restrict access to mitigate the impact on these precious landmarks.
terrible traffic
The only way to guarantee to see your Oahu sight-seeing bucket list free of traffic jams and crowds is to take to the skies on a top Hawaiian helicopter tour with Blue Hawaiian Helipcopters. Tours are specially designed to show you all the top sights from air-conditioned and crowd-free comfort.
2. Oahu has some of Hawai'i's most Iconic Landmarks, and it could take days of driving around to see them all.  
Oahu boasts some of Hawaii's most notable historic memorials, tropical rainforests, and beautiful beaches. When you think of the most significant landmarks and remarkable sights of Oahu, your list will include the fabled Waikiki shoreline, the iconic Diamond Head State Monument, the famed Hanauma Bay, the breathtaking Sacred Falls, the pristine coral reefs of Kaneohe Bay, the legendary Chinaman's Hat (or Mokoli'i), the Dole Pineapple Plantation, the renowned surfing of North Shore and the world-famous Sunset Beach, as well as historic Pearl Harbor with the emotional Arizona Memorial and Battleship Missouri.
The most challenging choices for a traveler are where to go, what to see, and what to sacrifice or save for "next time." You could drive around Oahu for a week and not see all these sights.
A few of these attractions can only be seen by air; the infamous Sacred Falls is one example. On Blue Hawaiian Helicopter's Blue Skies Tour, you'll see them ALL in just under an hour from the privacy and comfort of our state-of-the-art helicopters.
Additionally, taking to the skies can be a fantastic way to decide which landmarks are worth braving the traffic and driving to explore more deeply on another day.
3. Make your social feed pop with dazzling photos from this unique perspective! 
Why post average vacation pictures when you can post even better images from a bird's eye view? Your social posts will absolutely dazzle with pics that are all the right kind of "extra." You may even see whales, dolphins, or other pelagic species from the air!
Create unforgettable vacation memories with stunning aerial views that only the most adventurous and savvy travelers avail themselves of.
For the traveler that wants to see and document it all plus a little more, be sure to book yourself on Blue Hawaiian Helicopters Complete Island Tour. This itinerary incorporates all the sights of the Blue Skies Tour, PLUS a unique look at the Waianae Mountain Range and the often overlooked western coastline.
4. Something for every kind of traveler: Blue Hawaiian Helicopters tours offer a unique combination of information, views, and FUN! 
One of the significant challenges that both solo and group travelers face when going someplace with SO many amazing things to see, like Oahu, is choosing what to see and how to see it. Some travelers are history, geology, or biology buffs (the Fact Hound), while others just want to take in the sights with a twist of a thrill (the Thrill Seeker). Then there are those travelers who prize getting the most amazing photos and videos (the Documentor), and still others who have "seen it all" and just want to relax with some good music (The Unimpressable).
Blue Hawaiian Helicopters has a unique way of exceeding the expectations of ALL of those traveler types on their helicopter tours. Previous guests crow about Blue Hawaiian Helicopters pilots' expert-level narration of all the fantastic sights they soar over as much as they gush about the curated playlists each pilot creates as soundtracks to this once-in-a-lifetime adventure.
"There is no other way to see this much of the island!" -J. Davidson

⭐⭐⭐⭐⭐
"Not to be missed! Views of Oahu, unlike any other tour!" – D. Eng

⭐⭐⭐⭐⭐
Now that you know that you can see so much of Oahu in one amazing helicopter tour, why would you spend hours in traffic and jostle amongst the crowds to see just one or two landmarks on your list? 

Don't wait another moment; book your Blue Hawaiian Helicopters Oahu tour today!