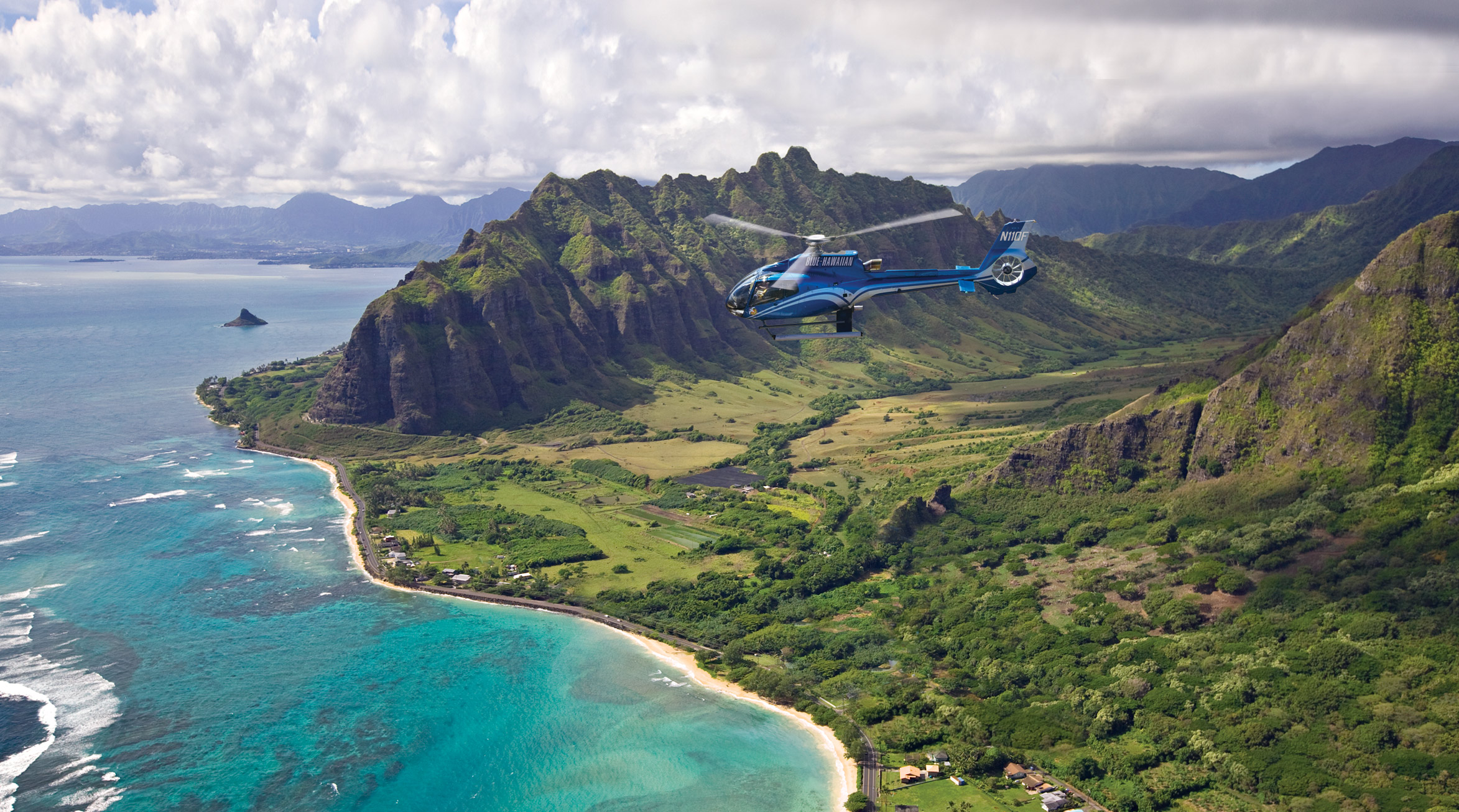 Are you considering going on a helicopter tour in Hawaii? If so, you probably have questions. Luckily, Blue Hawaiian Helicopters has compiled this list of important things to know before booking your first Hawaii helicopter ride to help you decide confidently!
Here are the top 5 things to know before you go on a helicopter tour:
1. Why should I take a Hawaii helicopter tour rather than an airplane tour? 
Helicopters can fly to places that are difficult to reach by other means, such as the unique mountainous peaks or jungles of the Hawaiian Islands. Additionally, helicopters tend to fly closer than airplanes, giving you better views and photo ops!  
They can also land in these difficult-to-access places, which is impossible for an airplane because of the size of their landing gear and flight dynamics. This makes helicopters ideal for accessing and viewing remote locations that you cannot see otherwise, like soaring over a rainforest valley or above waterfalls.
If landing in otherwise inaccessible locations sounds exciting to you, be sure to check out one of the top Hawaii helicopter tours that Blue Hawaiian Helicopters offers like the Big Island Spectacular and Maui Spectacular!
When you hear the word "helicopter," your first thought may not be about hovering. However, hovering is one of the greatest differentiators of a helicopter experience and is fantastic for photography and video. In this mode of flight, your pilot will keep the helicopter stationary in one place while they take you on an aerial tour of the landscapes surrounding you.  Even if you are not an experienced photographer, you can get breathtaking shots from this perspective that you would otherwise not be able to. 
Motion sickness is surprisingly not very common on helicopter tours as the ride is smooth. Most modern helicopters employ anti-vibration devices in the floor for additional comfort.  If you are more susceptible to motion sickness booking a front seat may lessen the effects as your field of view will be larger. 
2. What's the Best Time of Day to fly?
There really is no bad time of day to take a helicopter tour. The views are always extraordinary and the experience is always memorable. Every time of day offers its own benefits of lighting and shadows that highlight the amazing views. Blue Hawaiian Helicopters' Pau Hana Maui is a fantastic sightseeing helicopter tour that is designed specifically to capitalize on the golden quality of light in the late afternoon.  Whether you go in the morning, afternoon, or evening, you will surely have an incredible time.
3. Why does the color of my clothing matter? 
It may be surprising to learn that the color of clothing you choose to wear can affect the quality of the tour for yourself and others, let alone have an effect on the memories you capture on film or video.
When taking a helicopter ride, it is important to wear dark clothing to reduce glare in the helicopter windows overall. Reducing glare will help you capture better photos and videos and will also make it easier to see out the window.
Blue Hawaiian Helicopters has also partnered with Maui Jim, making their sunglasses available at most of our locations, to enhance the view even more during your tour.  
4. Can my helicopter tour be canceled due to weather?
Tour cancellations can occur when the weather is too poor to fly in. This can be due to high winds, low visibility, or severe precipitation.
Aside from safety, poor weather can dramatically impact the quality of your experience and what you can see during your tour. Blue Hawaiian Helicopters wants you to have a smooth flight and get all the breathtaking views you expect!
Should your tour be canceled due to weather, Blue Hawaiian Helicopters will do our best to find a new date for you that is safe and enjoyable to fly. If we are unable to find a time that works for you the tour will be refunded in full.
5. Why should I book the front seat?
Front seats in a helicopter are highly desirable because they provide the best views throughout the flight, offering a nearly unimpeded view at all times. Imagine the photos and videos you will come away with!
The front seats are also the most comfortable seats in the helicopter. Passengers seated in there tend to experience less motion sickness.
You'll want to inquire about booking the front seat early for your desired tour date though; they tend to go quickly!
An Experience you will always remember…
For an absolutely unforgettable experience and the best Hawaii helicopter tours, look no further than Blue Hawaiian Helicopters. You'll experience a truly unique perspective, unrivaled views of the Hawaiian Islands and create memories that you'll cherish forever.
Book with us today and learn why Blue Hawaiian Helicopters is known for providing the tour of a lifetime, every time!