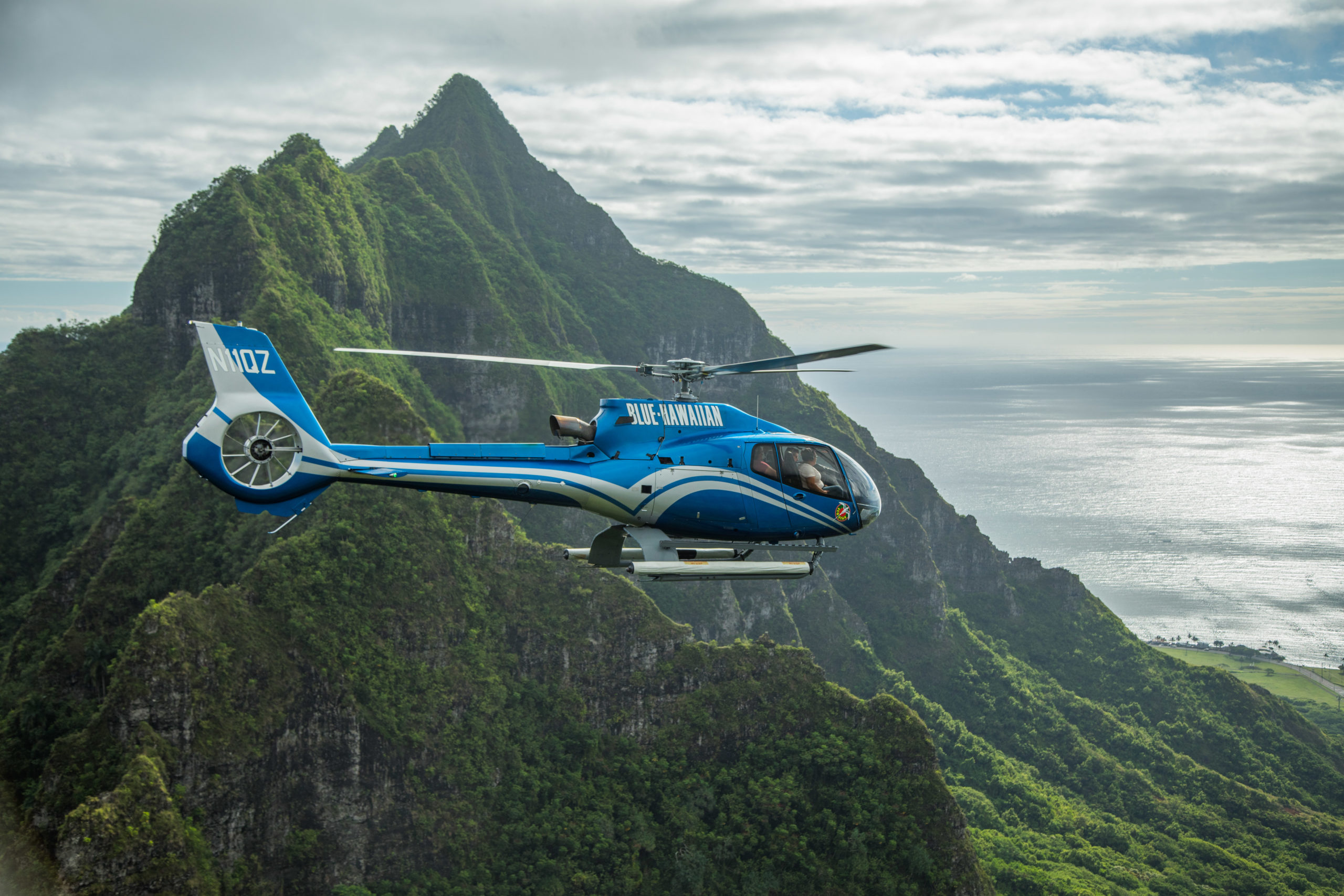 Have you dreamed of soaring above breathtaking landscapes, capturing photos of stunningly unique vistas, and experiencing the Hawaiian islands from an entirely new perspective? A Helicopter tour with Blue Hawaiian Helicopters offers an exhilarating adventure like no other!
From the adrenaline rush of take-off to the awe-inspiring aerial views of places few visitors get to see, and illusive waterfalls helicopter tours provide unique perspectives that are bound to leave you in awe.
Welcome to our "Know-Before-You-Go" guide to tours by Blue Hawaiian Helicopters! In this blog, you'll learn all the essentials to help you make the most of your aerial adventure. Whether you're a first-timer or a seasoned traveler, these tips will ensure a safe, memorable, and enjoyable experience.
Safety First! 
Safety is our top priority. Blue Hawaiian Helicopters has been Hawaii's air-tour leader for over 38 years, and the only helicopter tour company that serves the entire state. Only Blue Hawaiian Helicopters has an approved and accepted voluntary FAA Safety Management System (SMS), just like all major airlines, along with numerous other industry-leading safety programs and practices. Blue Hawaiian is also guided by an executive management team dedicated to Continuous Process Improvement. In Hawaii, Only Blue is the leader in air-tour safety. You can find all the details on our safety page.
Before take-off, you'll receive a pre-flight safety briefing. The knowledgeable crew will walk you through essential safety protocols and what to expect during the tour. You'll want to listen carefully to the pilot and crew and follow their instructions diligently throughout the flight. Your cooperation plays a crucial role in maintaining a safe and smooth journey.
Pick Your Adventure
Choosing which tour to take depends on the Island you're visiting and your hopes for the adventure!
Blue Hawaiian Helicopters offers a variety of helicopter tours catering to different interests and preferences. Whether you're eager to soar over waterfalls, see the whole island, or do all that plus take in urban skylines, Blue Hawaiian Helicopters has a tour to suit your desires.
Each Island has unique features, and Blue Hawaiian has helicopter tours that cater to them all! Here are a few tips to help you decide.
When making your choice, you'll want to take the duration and route of the tour into consideration. Tour times range from 50 minutes to 2.5 hours. Extended tours may encompass more destinations and optional landing locations, while shorter ones offer exploration of a more specific area.
Weather conditions and visibility can greatly impact your tour experience. While we strive to provide optimal conditions, nature can be unpredictable. Blue Hawaiian Helicopters will certainly let you know if they're aware of anticipated foul weather when you schedule.
The time of day is mostly about what works for your schedule since Any time of day is perfect for seeing the incredible sights of the Hawai'ian Islands.
If landing and exploring otherwise inaccessible locations is on your wishlist, check out the Big Island Spectacular. If Volcanos interest you, don't miss the Circle of Fire or the Complete Island Maui tours.
The good news is that you will see breathtaking vistas, capture stunning photos, and make unforgettable memories on any tour you choose!
What to Expect from a Hawaii Helicopter Ride
Helicopter flights can be a bit loud, but you'll be given the use of headsets for both noise reduction and communication. Please note that conversing with others during the flight is more limited than in a car, for instance. Embrace the quiet moments and immerse yourself in the sights. The experience of soaring through the skies and the sights of the Hawai'ian islands will likely leave you speechless anyway!
Perhaps surprisingly, Motion sickness is not very common on helicopter tours as the ride is smooth. Additionally, most modern helicopters employ anti-vibration devices in the floor for additional comfort. If you are more susceptible to motion sickness, booking a front seat may lessen the effects as your field of view will be more expansive.
Tour cancellations can occur when the weather is too poor to fly in. This can be due to high winds, low visibility, or severe precipitation. Rest assured, should your tour be canceled due to weather, Blue Hawaiian Helicopters will do its best to find a new date for you that is safe and enjoyable to fly. If we cannot find a time that works for you, the tour will be fully refunded.
Blue Hawaiian Helicopters wants you to have a smooth flight and get all the breathtaking views you expect!
Why Clothing Choice Matters 
Wearing the proper clothing can contribute significantly to your enjoyment on your helicopter tour.
Thankfully, the dress code is pretty simple. You'll want to:
Dress comfortably for the tour by wearing lightweight and non-restrictive clothing. Don't forget to wear closed-toe shoes for your safety.
Wear dark-colored clothing to minimize glare and reflections during photography.
Use polarized sunglasses to make the most of your view! Blue Hawaiian Helicopters has also partnered with Maui Jim, making their sunglasses available at most of our locations.
Avoid bringing loose items that could be blown around excessively by the wind. Be sure to secure your belongings before boarding the helicopter.
Dress in light layers for flexibility and comfort. Temperatures can change during a flight, but sweaters or heavy jackets tend to be unnecessary due to the sun's warmth.
How to Get the Best Photos 
Capturing amazing photos of your vacation is a top reason for taking a Hawai'i helicopter tour since aerial photography can give you some of the most breathtaking images!
To make the most of your soaring perspective, you'll want to be prepared to shoot through glass, anticipate reflections, and consider using a polarized filter on your camera. For the least amount of obstacles to shoot around, we recommend booking the front seat.
Whether you bring a camera or use a smartphone, make sure it has a secure strap to prevent accidents during the flight.
As a courtesy to other passengers and for safety reasons, drones are not allowed on our helicopter tours.
Some Final Tips for a Memorable Experience
Arrive a bit early for your tour to complete the necessary paperwork and meet the friendly crew who will be guiding you through this unforgettable experience.
Stay hydrated and eat light before your flight to ensure you're comfortable.
Don't forget to take in the stunning views and immerse yourself in the moment. It's a once-in-a-lifetime adventure, and Blue Hawaiian Helicopters wants you to cherish every second of it.
Last Thoughts
We here at Blue Hawaiian Helicopters hope this "Know-Before-You-Go" guide has provided some helpful insights and tips for your upcoming tour. If you had a question that wasn't answered here, please check out our FAQ page!
Safety is our utmost priority, and Blue Hawaiian Helicopters is committed to delivering the best tour experience possible. Following these guidelines and cooperating with our crew will ensure you'll enjoy a truly unforgettable adventure.
For the best Hawai'i helicopter tours, look no further than Blue Hawaiian Helicopters. You'll experience a truly unique perspective, unrivaled views of the Hawai'ian Islands and create memories that you'll cherish forever.
Book with us today and learn why Blue Hawaiian Helicopters is known for providing the tour of a lifetime, every time!